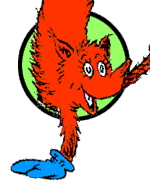 Even though Dr. Seuss is no longer alive, he still sells more books than any other children's book author.
Dr. Seuss has written and illustrated more than 50 books.
Some of the books have been made into audio tapes, television shows, and movies.
CLICK on the words Page 3 below to see a list of all of his books.